August 18-19, 2005: Carver's Gap to US-19E
I wanted to take Caitlin on a section of the AT. We walked a total of 13.7 miles from Carver's Gap on the TN/NC border to the AT crossing of US 19-E in TN.
August 18
After getting rained on and crossing several balds, we descended to the Overmountain shelter, a barn converted to one of the largest shelters on the trail (maybe largest?), near the Overmountain Victory Trail which dates from the Revolution.
Wet though we were, we enjoyed the view from the shelter.

We ascended again from there to cross Little Hump Mountain (on the left above). On our way up Little Hump, we looked back at the shelter and beyond it at the ridgeline we had been following. Carver's Gap, where we started, is about three-quarters of the way to the right, just before the furthest mountain you can see.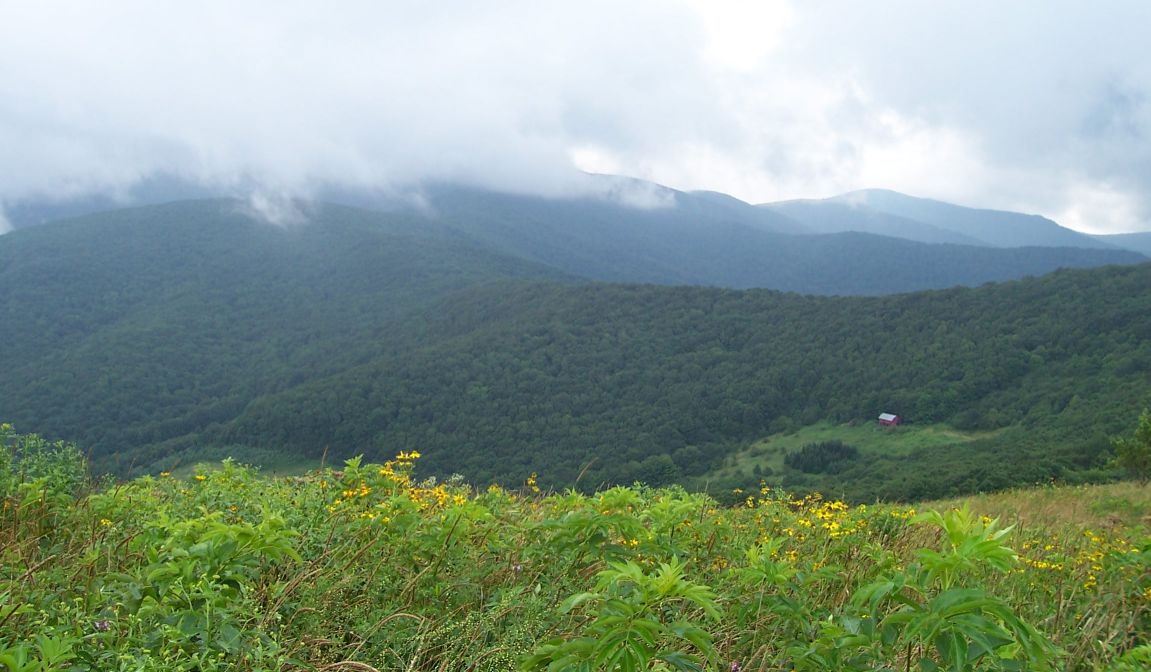 Over "Little" Hump, we descended to Bradley Gap and made camp, wet, tired, and wet. Did I say we were wet?
August 19
We slogged our way up Hump Mountain, a large bald which was foggy, windy, and wet. No view for the fog, but it was a tough climb. Didn't see any other hikers, but we were not alone.
Grazing is done on some of the balds to keep them bald. On the way down from Hump, we met a friendly group of longhorn cows, accompanied by a bull who made the effort of standing to assure us he was in charge. He's in the background lying down in this picture. We descended from Hump 5.4 miles down to the highway and called for a ride back to Hampton, where we had hoped to end our hike Sunday. We'll come back and do the rest another time in drier weather, but we had a pretty good time nevertheless.